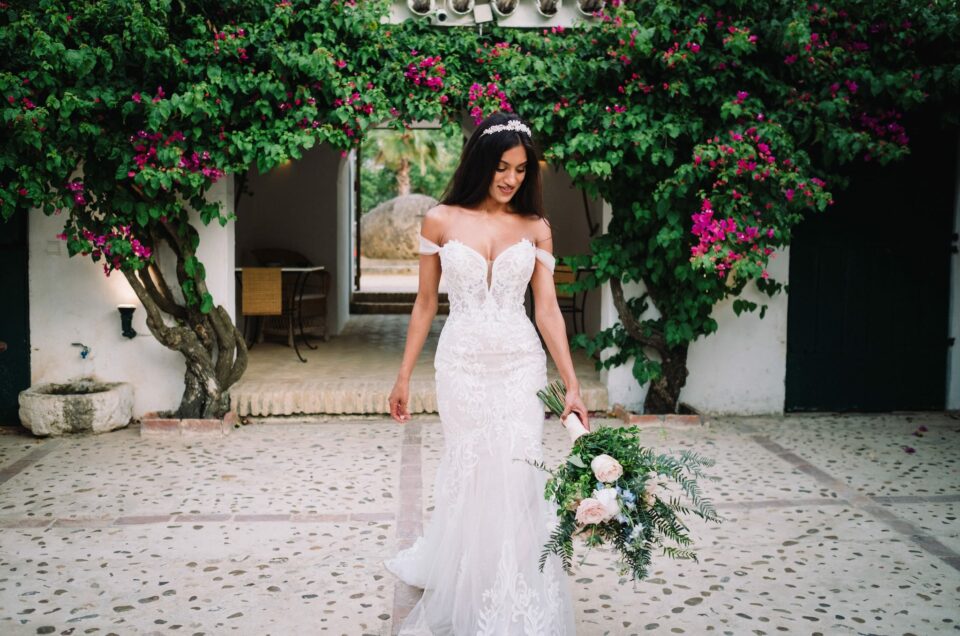 Wedding at Hacienda San Rafael. (Spanish version)
Ellos nos contactaron desde UK en 2020 para su Boda en Sevilla. Tras lo ocurrido en la pandemia, decidieron cambiar su fecha a 2022 y por fin han podido celebrarlo por todo lo grande.
La hacienda San Rafael es un enclave espectacular para este tipo de eventos. Especializado en bodas de destino, y con un trato cordial y exquisito, es siempre una apuesta segura para este tipo de bodas. Las habitaciones, y casitas son impresionantemente bellas, decoradas con un gusto exquisito. En ellas siempre pueden alojarse familiares y amigos, y disfrutar todos de la compañía, el bar y sus piscinas antes y tras la boda. Especial Pasar la noche anterior con una de sus cenas al aire libre contemplando la puesta de Sol.
Nosotros estuvimos con Sovrila y Kareem también la noche anterior en su cena privada con amigos y familiares. Un rato mágico entre Aperol y paella, risas y muchas ganas de pasarlo bien.
Nuestro equipo de fotógrafos lo formamos dos personas, Manuel & Pilar. Cada uno toma ángulos diferentes durante toda la boda y cada uno se encarga de las fotos de cada novia/o. Nos gusta captar esos momento fugaces, naturales, sin posados, narrando de forma visual todo lo que ocurre. Somos un invitado más, y nos escondemos constantemente para hacer nuestra fotografía y no interrumpir a nuestra parejas.
Nuestra calidad es superior, usamos el mejor software y hardware disponible, y ponemos todo nuestro talento al servicio de nuestra parejas.
Tras el arreglo en las diferentes casas, hicieron su ceremonia en el patio, un sitio precioso y muy colorido. Tras la ceremonia hubo muchas tapas y muy buen rollo. Luego la cena y los discursos y baile, mucho baile. Una boda muy divertida, estimulante, con un ritmo muy acompasado y muy amena.
Nuestra enhorabuena a los novios, muchas gracias por elegirnos. Os dejo con el último mensaje de chat de Sovrila tras entregarle sus fotos.
«Manuel I love these photos. You did an amazing job I'm so grateful to you. Thank you so much you really captured every part of our day. I couldn't have asked for better photos x»
---
Wedding at Hacienda San Rafael. (English version)
Sovrila and Kareem at Hacienda San Rafael. They contacted us from the UK in 2020 for their wedding in Seville. After what happened in the pandemic, they decided to change their date to 2022 and have finally been able to celebrate in style.
Hacienda San Rafael is a spectacular venue for this type of event. Specialised in destination weddings, and with a cordial and exquisite treatment, it is always a safe bet for this type of wedding. The rooms and cottages are stunningly beautiful, decorated with exquisite taste. Family and friends can always stay in them and enjoy the company, the bar and the swimming pools before and after the wedding. Special Spend the night before with one of their outdoor dinners watching the sunset.
We were with Sovrila and Kareem also the night before at their private dinner with friends and family. A magical time between Aperol and paella, laughter and a lot of fun.
Our team of photographers is made up of two people, Manuel & Pilar. Each one takes different angles throughout the wedding and each one is in charge of the photos of each bride and groom. We like to capture those fleeting moments, natural, without posing, narrating in a visual way everything that happens. We are just another guest, and we are constantly hiding to do our photography and not interrupt our couples.
Our quality is superior, we use the best software and hardware available, and we put all our talent at the service of our couples.
After the arrangement in the different houses, they had their ceremony in the courtyard, a beautiful and colourful place. After the ceremony there was a lot of tapas and good vibes. Then dinner and speeches and dancing, lots of dancing. A very fun wedding, stimulating, with a very rhythmic pace and very enjoyable.
Our congratulations to the bride and groom, thank you very much for choosing us. I leave you with the last chat message from Sovrila after delivering her photos.
«Manuel I love these photos. You did an amazing job I'm so grateful to you. Thank you so much you really captured every part of our day. I couldn't have asked for better photos x»
If you want to see another wedding at Hacienda San Rafael click here.